Back to publications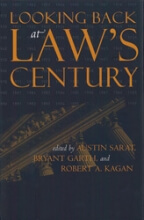 Academy Fellows Reflect on a Century of Legal Change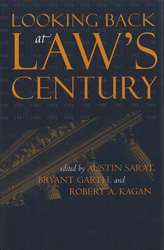 Looking Back at Law's Century, published by Cornell University Press, describes the complex interaction of democracy, capitalism, and legal change in the twentieth century. "The last hundred years – what we might in retrospect characterize as 'law's century' – took us from the Progessive Era's optimism about law and social engineering to current concerns about our hyper-legalistic society, from Wilsonian idealism to the worldwide spread of democracy, the rule of law, and the idea of human rights," according to the volume's editors, Austin Sarat, Bryant Garth, and American Academy Fellow Robert A. Kagan. Other Academy Fellows who contributed to the book include Owen Fiss, Morton Keller, and Martha Minow.
The American Academy of Arts and Sciences cosponsored the work that led to the publication of Looking Back at Law's Century. The study emphasizes the double role of law in responding to, and initiating, social change. Representing a variety of perspectives, the authors examine how law has been shaped, and in turn, has structured two "extralegal developments": the spread of democratic political processes across the world and the emergence of more productive and competitive capitalist economies. Among the topics covered in the publication are race and citizenship, individual and group identity, crime and punishment, the legal profession, democracy and freedom, the liberal state, corporate governance, civil society, and the teaching of law.
Contributors to Looking Back at Law's Century:
Guyora Binder, SUNY-Buffalo
Marianne Constable, University of California, Berkeley
Owen Fiss, Yale Law School
Bryant Garth, American Bar Foundation
Robert W. Gordon, Yale Law School
Carol Greenhouse, Indiana University
Robert A. Kagan, University of California, Berkeley
Laura Kalman, University of California, Santa Barbara
Morton Keller, Brandeis University
David Kennedy, Harvard Law School
Martha Minow, Harvard Law School
William J. Novak, University of Chicago
Austin Sarat, Amherst College
Jonathan Simon, University of Miami
Kendall Thomas, Columbia Law School
For more on Looking Back at Law's Century, including ordering information, please call 1-800-666-2211 or visit Cornell Press.