The State of the Humanities 2018: Graduates in the Workforce & Beyond
Bachelor's Degree Holders Who Agree That "At Work, I Have the Opportunity to Do What I Do Best Every Day," by Graduation Cohort and Field of Bachelor's Degree, 2014
Back to table of contents
Project
Humanities Indicators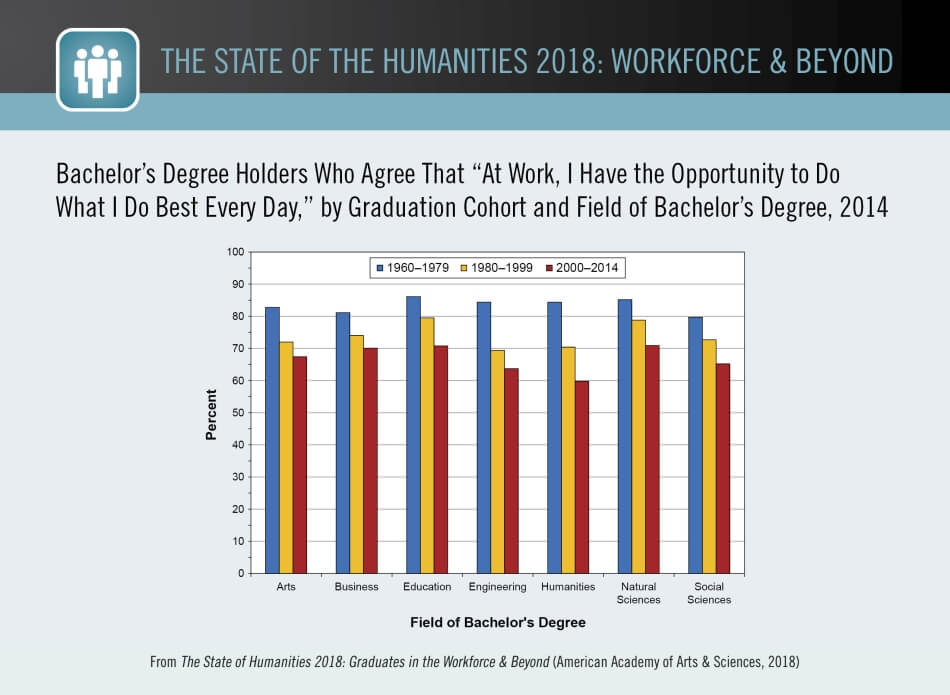 Experience in the workforce appeared to play an important role in measures of satisfaction with the work humanities graduates perform. There were substantial differences among graduation cohorts in response to the prompt, "At work, I have the opportunity to do what I do best every day." The humanities was not alone in showing a difference between young and old on this question, but it did have the widest gap. While 60% of those who earned humanities degrees from 2000 to 2014 expressed satisfaction about the opportunity to best use their talents and skills at work, 84% of graduates in the oldest cohort (1960 to 1979) reported similar satisfaction.
In the oldest cohort, humanities graduates were near the highest levels of reported satisfaction on this measure.1
Endnotes
1Wiese and Tay, "Gallup Purdue Data Report on Humanities and Well-Being," Table 2. Table 7. We are using graduation cohort as a proxy for work experience because data of that kind were not available.