The State of the Humanities 2018: Graduates in the Workforce & Beyond
"My Best Possible Life": Bachelor's Degree Holders' Belief in Attainment, by Field of Degree and Point in Time, 2014
Back to table of contents
Project
Humanities Indicators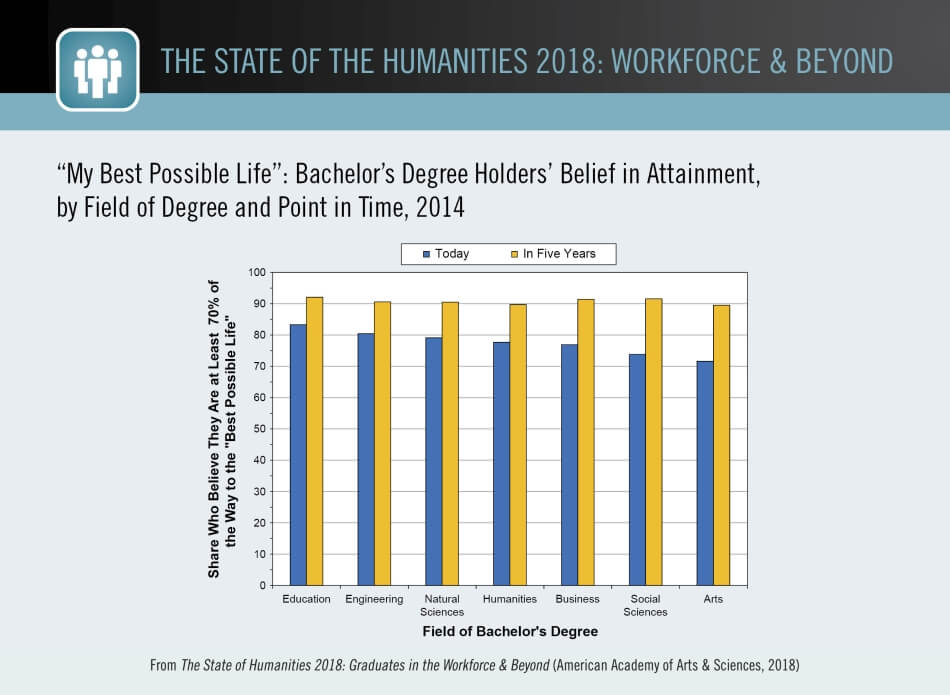 Work life is but one aspect of well-being. When asked to reflect on their lives generally, a 2014 Gallup survey found modest differences among majors with respect to the share who believed that they had or soon would realize their "best possible" life. At the time of the survey, over three-quarters of humanities graduates saw themselves at least 70% of the way to this goal, which was similar to the shares of engineering and natural science graduates who believed this. Education majors were the most likely to feel they were close to attaining such a life.
In every field, an even larger share of respondents expected to be well on their way to their best life or to have attained that life in five years. Ninety percent of humanities majors reported believing this, alongside similarly large shares of graduates from every other field.1
Endnotes
1Wiese and Tay, "Gallup Purdue Data Report on Humanities and Well-Being," Table 17.