The State of the Humanities 2018: Graduates in the Workforce & Beyond
Earnings Comparison: Workers with a Terminal Bachelor's Degree (by Field) Versus Those Without a Four-Year Degree, 2015
Back to table of contents
Project
Humanities Indicators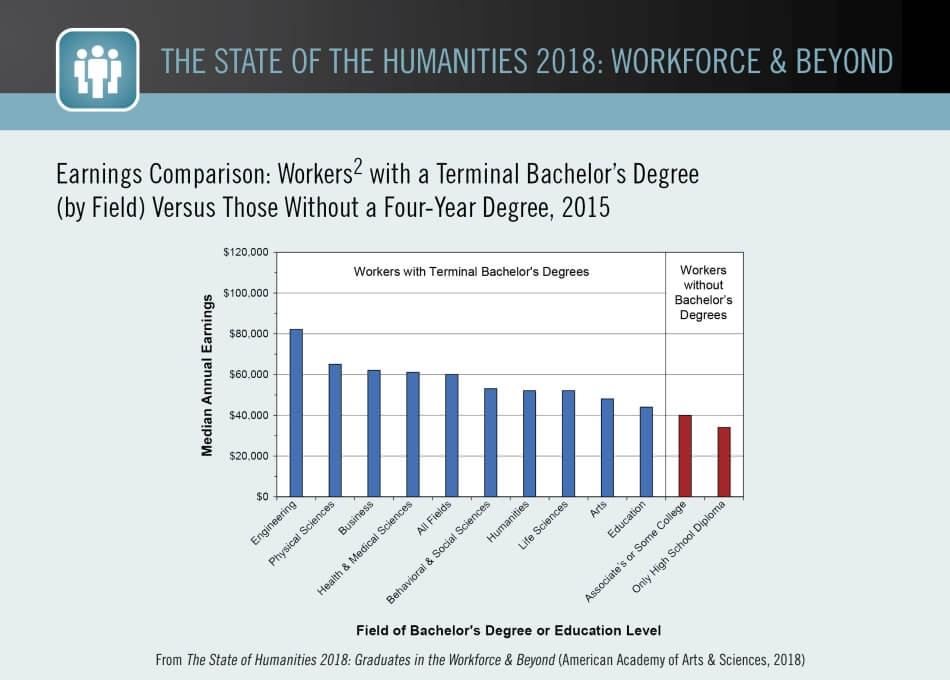 Note: In this and succeeding figures based on the National Survey of College Graduates and the American Community Survey, "workers" are defined as those employed in full-time, year-round positions.
Earnings are often the key data point in conversations about the value of college degrees—in part because they are relatively easy to measure. Median annual earnings for workers with just a terminal bachelor's degree in the humanities stood at $52,000 in 2015, which was somewhat lower than the median for all college graduates ($60,000) and substantially lower than the median for those in engineering ($82,000). Nevertheless, the median for the humanities was equal to the earnings for graduates from the life sciences and higher than those with a baccalaureate degree in the arts ($48,000) and education ($44,000).
While humanities earnings are lower than those among STEM and business graduates, they are higher than those of workers who lack bachelor's degrees—either those with an associate's degree or some college ($40,000) or those with only a high school diploma ($34,000).1
Endnotes
1U.S. Census Bureau, 2015 American Community Survey Public-Use Microdata Sample.