Lincoln Project Recommendation 1: Address current financial challenges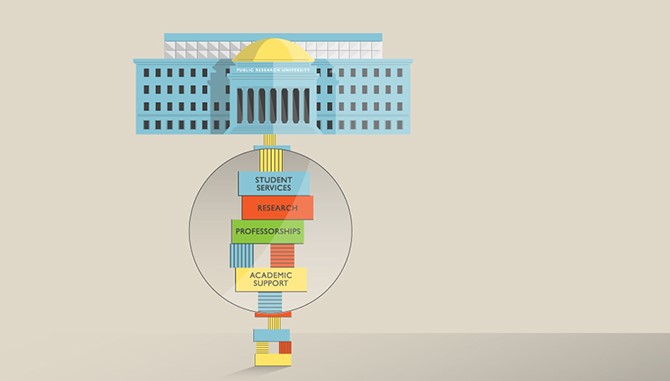 The decline in state support represents a fundamental challenge that strikes at the core mission of public research universities. Yet, states tend to increase their funding of public higher education when the economy is strong and cut funding when the economy is weak.
Why?
Public colleges and universities are different from other state organizations. They have their own budgets, reserves, and revenue streams (including tuition and fundraising). They can adjust their program offerings. And they have some control over employee salaries since they are not bound by statewide pay scales. As a result, there is a perception that public colleges and universities are able to absorb budget cuts better than most state organizations.
Since 2008, state support for public research universities has dropped by 26 percent. Public research universities have been able to absorb state budget cuts by:
consolidating academic programming

tightening research budgets

raising tuition.
However, their budgets are not infinitely flexible. Reductions in state support have been the primary driver of tuition increases at public research universities, and continued cuts may compromise the quality of education and research at these institutions.
Undoubtedly, the most effective, efficient, and democratic solution to these challenges would be for all 50 states to recommit to the financial support of their public research universities—if not by reversing the cuts made over the last decade, then at least by increasing public higher education contributions over the next decade. Otherwise, these institutions risk losing the distinct character that has made them so important to the states and the nation.
Each public research university has a responsibility, implicit in its relationship with the state, to serve a student population that is as broad and diverse as possible. Public research universities have been particularly effective in reaching students from underprivileged backgrounds, immigrant families, and families for whom higher education (and its benefits) would otherwise be unattainable. For this reason, the single most important higher education program that any state can pursue is the provision of comprehensive financial aid to low-income, in-state undergraduates.
Download the full report Public Research Universities: Recommitting to Lincoln's Vision—An Educational Compact for the 21st Century.
Additional Findings: