Lincoln Project Recommendation 2: Create public-private partnerships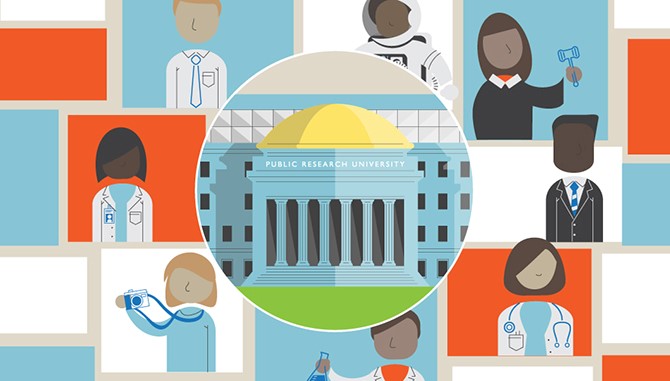 Public research universities are encouraged to look to state governments and the philanthropic community for sustained support, including funding for core educational programs.
In order to do more than preserve the status quo, to evolve and expand to meet future public needs, public research universities will need to look beyond the states—and especially toward the business community—to find new partners.
Fortunately, many businesses are interested in partnering with public research universities. Over the past two decades, public research universities have made new efforts to stimulate economic development and to provide outlets for students and faculty to commercialize their research findings. American public research universities now make up 20 of the top 50 universities in the world that generate venture capital-supported entrepreneurial activity.
The first step toward a greater public-private compact is to simplify the terms of exchange between public research universities and business. For example, public research universities could promote the use of standard master agreements to simplify prohibitively complex licensing negotiations, accelerating the transfer of research for commercial development and making universities more attractive partners.
Procedural changes must be accompanied by a cultural shift. Both the private sector and public research universities need to acknowledge the great potential of properly mediated partnerships, and universities, in particular, must actively signal to businesses that they are willing partners. They could attract new business partners by sending university representatives to major industry conferences, or by establishing dedicated research funds (developed through philanthropic and corporate giving) that would provide stable support for collaborative research and development pursuits.
Download the full report Public Research Universities: Recommitting to Lincoln's Vision—An Educational Compact for the 21st Century.
Additional Findings: