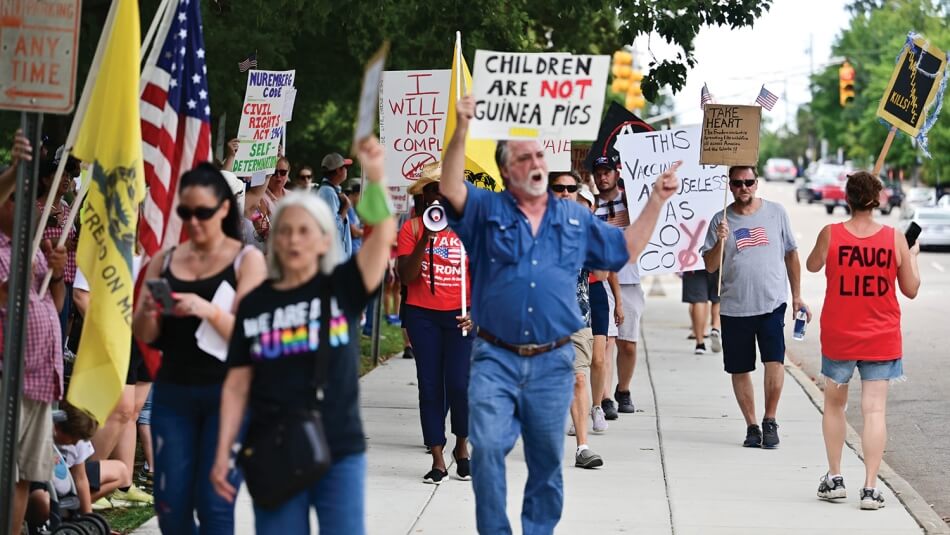 By Dædalus Editorial
Institutions are critical to our personal and societal well-being. They facilitate relationships; they regulate behavior. They develop and disseminate knowledge, enforce the law, keep us healthy, and uphold social and religious norms.
Distrust of institutions is nothing new: partisan distrust dates to the emergence of America's first political parties, and scandals and crises from Teapot Dome to the Great Recession have periodically reminded Americans not to place too much trust in institutions' abilities to police themselves. But over the past three years, resistance to public health guidance about COVID-19, demonstrations against police violence and racism, and the violent rejection of the results of the 2020 U.S. presidential election have highlighted the growing polarization of trust. If institutions and the people who lead them have lost legitimacy in the eyes of the people they are meant to serve, how can they fulfill their missions? Can this loss of confidence be reversed?
The Fall 2022 issue of Dædalus, made possible in part by a generous gift from the John S. and James L. Knight Foundation, explores the causes and consequences of the loss of confidence in not just government institutions like the Supreme Court and the legislature, but also institutions previously thought of as nonpolitical, like medicine, the media, science, religion, and law. Led by Academy members Henry E. Brady and Kay Lehman Schlozman, the authors investigate these declines in trust by examining fifty years of polling data as well as public behaviors like compliance with and resistance to institutional guidance and norms.
One general finding in the volume is that our extreme political polarization maps neatly onto the perceived legitimacy of these institutions: conservatives are more distrustful of the press, public schools, science, and the administration of elections, while liberals are more distrustful of banks, Wall Street, the police, and the military. This point is captured by the artwork that appears in the issue: a man questioning the validity of the presidential election, protestors against the repeal of Roe v. Wade and an increasingly politicized Supreme Court, a woman visiting a memorial to Black victims of police violence, and a rally opposing the mandated use of masks and vaccines against COVID-19.
Is this really all bad? Or as Brady and Schlozman ask, "Should we trust major American political, economic, and social institutions when the people associated with those institutions are fallible and even, on occasion, venal or criminal?" Shocks like Watergate, the invasion of Iraq, and the exposure of child sexual abuse in the Catholic Church generate justified distrust. But too little trust carries its own risks, and there is a necessary balance. The authors acknowledge that without perceived legitimacy, our institutions' abilities to function and, therefore, serve the public degrades. And in some contexts, as the response to public health recommendations about COVID-19 has shown, the consequences can be counted in lives lost.