"International education is always at a crossroads, as it should be," Lee Feinstein, founding dean of the Hamilton Lugar School of Global and International Studies, said at the recent opening of the first symposium offered as part of the Indiana University Bicentennial.
The two-day International Education at the Crossroads conference honored the 60th anniversary of the National Defense Education Act, which has had a dramatic effect on expanding language and area studies through Title VI funding at all levels of education across the United States. Throughout the conference, national and global leaders in education, business and government explored the past, present and future of language and area studies.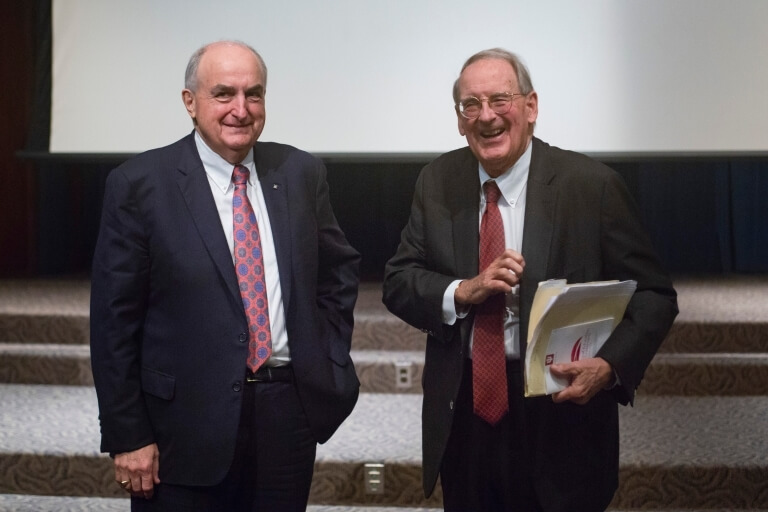 Expert speakers, distinguished panelists and active participants explored how institutes of higher education intersect with the global community when their faculty collaborate with researchers around the world, their students study abroad or international students learn on their campuses.
For a global university like IU, with strong international programs and initiatives with roots going back over 100 years, the importance of language and area studies is profound. So is communicating why IU's global perspective gives it strength and how the university's international engagements are having an impact in Hoosier communities.
"The best university education instills an understanding of the world outside of the boundaries of the United States: of the history, ancient or modern, of the cultures, religions, politics, economies, institutions, languages, art and literature of other countries," IU President Michael A. McRobbie said during his introduction of the symposium's keynote speaker. "Such an understanding is even more important today, when the world is more interconnected than ever, and when there is hardly a discipline or profession that is not affected, to greater or lesser degree, by globalization. Not only is this educational dimension a matter of practical necessity, but it is increasingly being demanded by students."
In his keynote address, American Academy of Arts and Sciences President Jonathan Fanton praised IU for its international focus and its work to translate global engagements into preparing students for an increasingly interconnected and competitive world and meeting the needs of key industries.
At the same time, Fanton and other conference participants emphasized the need for colleges and universities to do more to spread awareness about the positive impact of language and area studies.
Fanton pointed toward the American Academy of Arts and Sciences' efforts to encourage policymakers to support international education initiatives such as the "Bridging America's Language Gap" petition, which was signed by IU, other universities, and leaders in business and government. The petition seeks national support for language education to maintain and enhance America's global leadership.
. . .