After 238 years, there are not that many "firsts" left for the American Academy of Arts and Sciences to achieve. Yet on November 29, 2018, the Academy found one, hosting its first jazz performance at its headquarters in Cambridge.
This remarkable evening of music and conversation, which served as the 2076th Stated Meeting, featured Academy Fellow and legendary pianist, composer, and arranger Kenny Barron, a ten-time Grammy nominee and an NEH Jazz Master. Kenny Barron alternated performing solo pieces with a discussion moderated by Eric Jackson (WGBH; Northeastern University), a legend on the Boston radio scene, with Tony Earls (Harvard T. H. Chan School of Public Health; Harvard Medical School) and William Damon (Stanford University) on his beginnings as a musician, the evolution of jazz over the course of his career, and the future prospects facing young jazz performers today.
The program opened with introductory remarks from Jonathan Fanton, William Damon, and Eric Jackson and included Barron performing pieces by Academy member Duke Ellington, Billy Strayhorn, and Thelonious Monk. The evening concluded with a performance of a blues piece inspired by Jimmy, the man who delivered ice to Barron's childhood home in Philadelphia.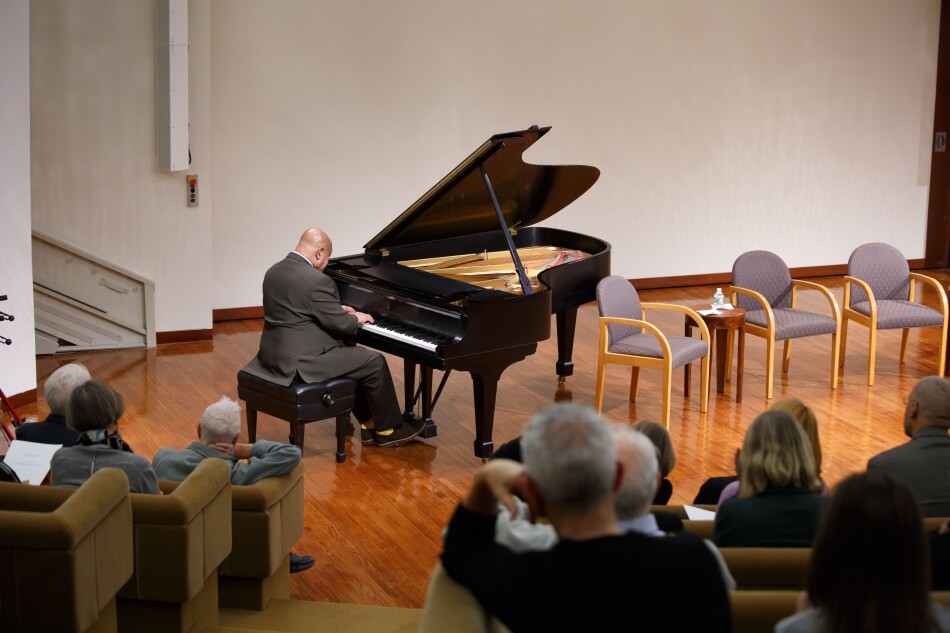 This public program had its roots in an Academy-supported exploratory project on the future of jazz organized by Earls and Damon. The exploratory project began with a meeting of jazz scholars, jazz educators, media hosts, and music entrepreneurs held at the Academy in 2016. In traditional Academy fashion, the meeting inspired an issue of Dædalus on "Why Jazz Still Matters," slated to appear later in 2019. In the wake of that meeting, Earls and Damon had multiple conversations with Academy staff about wanting the meeting to lead to an actual evening of jazz at the Academy in addition to a collection of essays about jazz. After a year of preparation, the evening with Kenny Barron proved to be more than worth the wait.
The background of the exploratory project on jazz was the mixed situation of this music in the world today. Although jazz has become a much-loved and highly respected art form, present-day economic conditions have not been kind to it. Consolidation among media companies, relentless commercialization pressures, and the rapid spread of computerized programming have led to a dramatic decrease of AM and FM radio stations that play jazz. Related to this decline has been a decrease of live performance venues. In past years, cities such as Kansas City, Chicago, Providence, Los Angeles, Detroit, Philadelphia, St. Louis, and Miami had their own cultural centers of gravity that supported both rising and established musicians and offered high-quality performances to local audiences. As these centers have declined, and as opportunities to participate in jazz have become less available, the pipeline for the young musicians who are essential for the future of the music has narrowed.
As one point of contrast, Kenny Barron's description of the musical environment of 1950s Philadelphia served as a jumping-off point for a wide-ranging conversation about the training of young musicians, the power of restraint, and the importance of playing in front of an audience. The Philadelphia of Kenny Barron's youth had a 24-hour jazz radio station and a wealth of small bars and nightclubs where young musicians could hone their craft. Born into a family in which everybody learned to play the piano, Kenny Barron got his first professional gig through his older brother, playing at an Elks Lodge in south Philadelphia with the Mel Melvin Orchestra. The demands of playing music backing a singer or a comedian as well as playing for dancing – for a wide range of audiences – gave Barron a foundation of experience that young musicians today have difficulty building, given the smaller number of venues for live music. According to Barron, aspiring jazz musicians of today have far more opportunities to get trained on their instrument and gain technical proficiency – "they can sight-read a bunch of grapes" – but have fewer chances to practice actually connecting with an audience.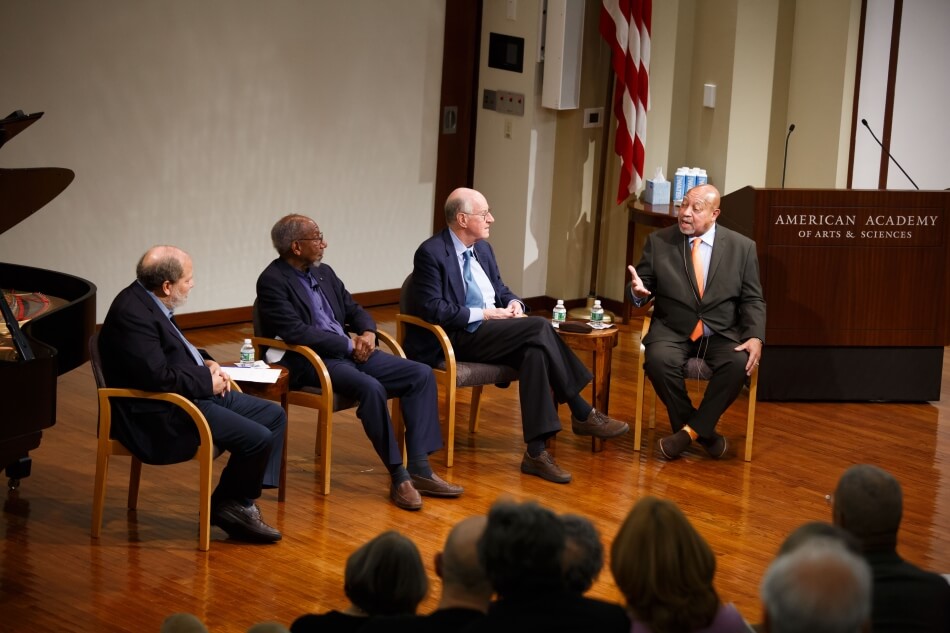 It can take decades for a musician to gain the experience to tell a story through music and have an emotional impact on an audience – years that most performers today do not have, since the opportunities no longer exist to make a living touring for forty weeks a year as Barron did playing with Dizzy Gillespie's band early in his career.
The conversation also covered the global appeal of jazz, with Tony Earls noting that American jazz musicians often find a warmer reception in Europe and Asia today than they do in the United States. Kenny Barron confirmed this impression by describing an audience in Seoul that was so enthusiastic about his band's set that the crowds outside kept the band from leaving the venue following the show, which Barron described as a genuine "rock star" experience. The discussion moved on to cover topics ranging from the anxiety of playing solo to what is on Kenny Barron's iPod (five thousand songs!), and concluded with the role that the Academy can play in promoting jazz: from increasing appreciation of jazz itself to building understanding of the centrality of improvisation to all music, from Bach and Haydn to Monk and Coltrane.
Perhaps the most important outcome of this evening at the Academy was the realization that this program should not be a one-time event but rather the first in an annual series of jazz concerts. The introduction of the Academy into the jazz world could result in a significant boost to the music in the current environment. In particular, the Academy's presence could inspire educational institutions to look for their own opportunities to broaden access to the music among young people from all sectors of the nation. Academy Members who are interested in being part of this effort should watch the video of this program on the Academy's website to see how high the bar has been set.