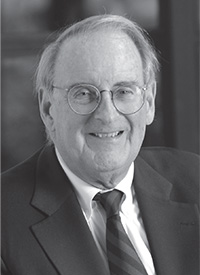 Jonathan F. Fanton
In January, I had the opportunity to visit with students and faculty at European Humanities University (EHU) in Vilnius, Lithuania. As a university-in-exile from an authoritarian regime in Belarus, EHU provides a college education in the liberal arts tradition to students from Belarus and the surrounding region. I was moved to meet so many young people inspired by their opportunity for intellectual exchange in a free and democratic environment. My visit prompted new reflections about how fundamental and important the work of the Academy is in strengthening and sustaining democracy in the United States.
The Academy is engaged in a number of projects, studies, and meetings that, when taken together, support the quality education and informed exchange that shape a healthy and inclusive democratic society. Just recently the Academy announced a Commission on the Practice of Democratic Citizenship, led by Danielle Allen of Harvard University, Stephen Heintz of the Rockefeller Brothers Fund, and Eric Liu of Citizen University. The Commission brings together a diverse group of leading scholars and practitioners who will work across disciplines to develop an understanding of how native-born and newly arrived Americans engage with the institutions of their democracy, and how they exercise their rights and responsibilities as citizens. The Commission will emphasize new forms of civic engagement and democratic practice made possible through new technologies. This is an important time for the Academy to examine what it means to be a citizen in a twenty-first century democracy. I look forward to learning from the Commission and to sharing its work with you.
A healthy and diverse democratic society thrives with the support of a strong educational system. In November 2017, the Academy's Commission on the Future of Undergraduate Education, led by Roger W. Ferguson, Jr. of TIAA and Michael S. McPherson, formerly of the Spencer Foundation, released a report with a national strategy for improving the quality and affordability of students' educational experiences. The report, The Future of Undergraduate Education, The Future of America, emphasizes the importance of preparing undergraduates to be informed and engaged citizens who understand the values, skills, and behaviors that contribute to a healthy democracy. To participate fully in society, citizens now need real scientific and technological understanding, sophisticated critical thinking skills, and a working knowledge of history, economics, civics, and the arts. Equally important, citizens need educational institutions that welcome and protect a robust and respectful exchange of ideas – the very essence of a democracy. And in an increasingly diverse population, undergraduate education is a good setting in which the next generation learns empathy and respect for people of different backgrounds.
The Academy's Public Face of Science project, led by Richard A. Meserve, formerly of Carnegie Institution for Science, and Geneva Overholser of Democracy Fund, considers how the public develops trust or mistrust in science, and in evidence more broadly. In a media landscape in which fact and fiction are not easily distinguishable, careful analysis of evidence and reasoned debate have become essential to civil dialogue. In February 2018, the Academy released the first of a series of reports from the Public Face of Science project, Perceptions of Science in America. The report explores the degree to which a person's background and experiences shape his or her interpretation of science. The goal of the project is to help scientists communicate better with citizens who depend on a working knowledge of scientific issues to make informed decisions for themselves and their communities.
A healthy democratic society also depends on global security and stability. The Academy has recently launched a three-year initiative on Meeting the Challenges of the New Nuclear Age, led by Christopher Chyba of Princeton University and Robert Legvold of Columbia University. The goal of the project is to articulate a new framework for governing relations among the existing nine nuclear weapons states, with particular attention to strengthening strategic stability within the two critical nuclear triangles: China, the United States, and Russia; and India, Pakistan, and China. The project is deeply rooted in the critically important work the Academy conducted during the Cold War to prevent a nuclear confrontation between the United States and the Soviet Union and beyond. It is now more important than ever that the Academy take up the challenge of understanding this new nuclear age.
The Academy also holds meetings in Cambridge and around the country on topics of pressing importance to our democracy. In November 2017, the Academy held a Stated Meeting on "Redistricting and Representation" featuring presentations from the Honorable Patti B. Saris of the U.S. District Court for the District of Massachusetts, Gary King of Harvard University, Jamal Greene of Columbia Law School, and Moon Duchin of Tufts University. I invite you to read their insightful presentations in this issue of the Bulletin. In February 2018, the Academy held a Stated Meeting on "Jefferson, Race, and Democracy," and in March 2018, the Academy looks forward to hosting the Bryson Symposium on Climate and Energy Policy at the California Institute of Technology. The Academy's local program committees are also developing thoughtful and substantive programs: the New Haven Committee held a luncheon in December 2017 on "Gains from Trade and Inequality"; the San Diego Committee organized a conversation in February 2018 on "Why are America's Politics Polarized?" and the Princeton Committee in February 2018 hosted a panel on "Research, Truth, and Academic Freedom."
We live in an uncertain time when the public and policy-makers are turning to independent, trusted institutions like the Academy for perspective and evidence. We should be proud that our Members are rising to this challenging moment with studies and publications, which are, in the words of our founders, "necessary to the wealth, peace, independence, and happiness of a people."