Project
The Lincoln Project: Excellence and Access in Public Higher Education
Tax revenue, although growing, is growing slowly. States face increases in spending areas that are difficult or impossible to cut, particularly Medicaid and pension contributions. They also face demands for spending on primary and secondary education: a popular priority that does not have its own revenue source (like tuition) and might more easily garner legislative support. In addition, states have made sharp cuts in infrastructure spending and face considerable demand to restore some of that spending, allowing repairs of roads and bridges and improvements in other areas. Thus, higher education, despite its importance to the economy, is continuing to fall behind these other priorities.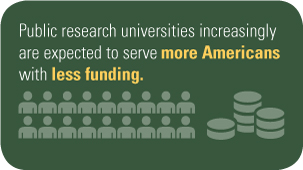 Most universities have instituted new programs to reduce costs, but years of dramatic budget cuts have left little room for austerity: public research universities increasingly are expected to serve more Americans with less funding. In response to this need, the Lincoln Project is developing new strategies for ensuring that public research universities continue to serve the nation as engines of innovation, growth, and opportunity for Americans of all backgrounds.
This is the second in a series of five publications that will examine the importance of our public research universities. Subsequent publications will include the current financial models of public research universities and how they are changing; and the impacts of the research conducted at these institutions on people, the economy, and the nation. Ultimately, the Lincoln Project will offer substantive policy recommendations for sustaining public research universities and will call on all funding partners—states, the federal government, philanthropies, business, and the public—to maintain and enhance their investment in them.