Project
The Lincoln Project: Excellence and Access in Public Higher Education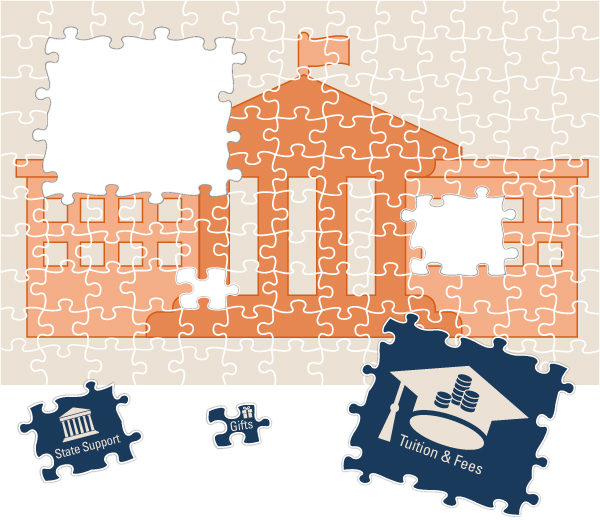 In the last twenty years, and especially since the onset of the Great Recession, states have dramatically reduced their contributions to public higher education. While the cuts have affected every public higher education institution, the cuts at public research universities have been the most severe, averaging a 26 percent drop in investment since 2008.1 The federal government has not covered this deficit, but has rather scaled back its support for the public research enterprise.2 No one has yet devised a workable plan to reverse these trends.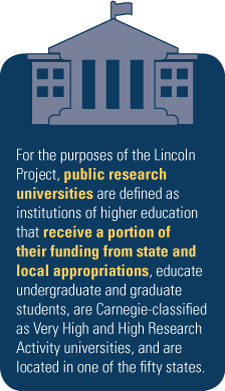 Faculty and administrators across the country have responded to this challenge with urgency and creativity. Nearly all public research universities have reduced administrative costs, improved financial management, and found new efficiencies in purchasing, information technology (IT), and human resources (HR) infrastructure. In addition, public research universities have embedded themselves more deeply and productively in local communities by offering services and partnerships to governments and businesses, and by extending educational offerings to previously underserved populations of students. But even these efforts have not been enough to make up for the funding shortfall.
For the first time in the history of American public higher education, tuition has become the principal revenue source for many public research universities.
The American Academy of Arts & Sciences has created the Lincoln Project: Excellence and Access in Public Higher Education to study the importance of public research universities, analyze economic trends affecting their operations, and recommend new strategies to sustain these critical institutions. In its first publication, Public Research Universities: Why They Matter, the Lincoln Project demonstrated the many ways in which public research universities are a vital public good. The second publication, Public Research Universities: Changes in State Funding, examined the financial challenges that state governments face, described the effects of those challenges on university budgets, and assessed the prospects for greater state support in the future.
This publication details the most common financial models that sustain public research universities, describes institutional responses to the changing financial climate, and identifies state funding cuts as the primary cause of rising tuition. It also examines new ideas for diversifying and enhancing funding sources in the future.
Source: Robert Hiltonsmith, Pulling Up the Higher-Ed Ladder: Myth and Reality in the Crisis of College Affordability (New York: Demos, 2015), http://www.demos.org/sites/default/files/publications/Robbie%20admin-bloat.pdf.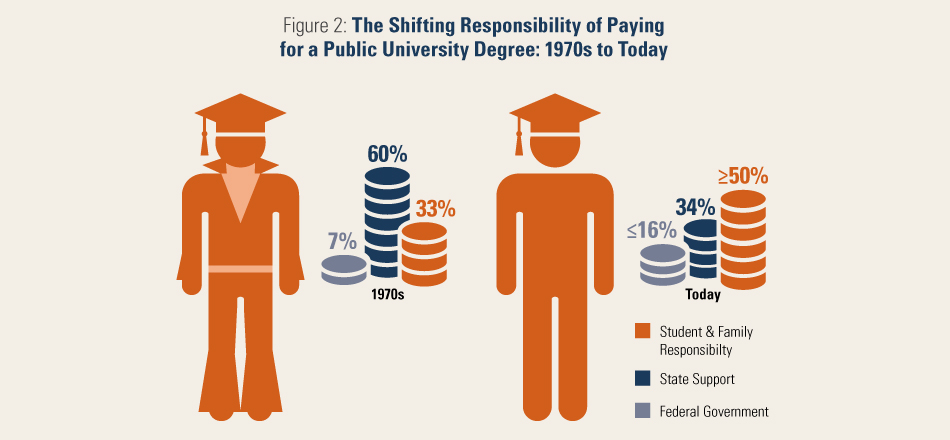 Source: David H. Feldman, Myths and Realities about Rising Tuition (Washington, D.C.: National Association of Student Financial Aid Administrators, 2012), http://www.nasfaa.org/news-item/4565/Myths_and_Realities_about_Rising_College_Tuition.
ENDNOTES
1 Analysis of data from State Higher Education Executive Officers (SHEEO) Association, SHEF: FY 2014—State Higher Education Finance (Boulder, Colo.: State Higher Education Executive Officers Association, 2015). Adjusted for inflation, state cost of living, and enrollment mix.
2 American Academy of Arts & Sciences, Restoring the Foundation: The Vital Role of Research in Preserving the American Dream (Cambridge, Mass.: American Academy of Arts & Sciences, 2014).