The Russian Military: Power and Policy
Back to publications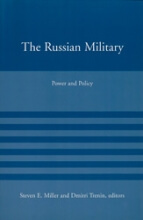 Summary
Russian military capacity remains a major consideration for global security even in the post-Soviet era. This book assesses today's Russian military and analyzes its possible future direction. The contributors – experts on the subject from both Russia and the West – consider not only how Russia has built its military capacity but also the policies and doctrines that have shaped Russia's defense posture. They discuss such topics as the downsizing of the Russian military, Russia's use of military power in regional conflicts, and the management of Russia's nuclear weapons.
For more than a decade, Russian leaders have struggled to formulate security and defense policies that protect Russia's borders and project Russia's influence. The contributors to The Russian Military find that the choices Russian leaders have made have been significantly influenced by the military reforms Russia has attempted to implement since the collapse of the Soviet Union. The protracted and intense debate over military reform has been – and will continue to be – decisive in shaping Russian military capacity.
This volume is edited by Steven E. Miller, director of the International Security Program at Harvard University's Kennedy School of Government and editor-in-chief of the journal International Security, and Dmitri Trenin, senior associate of the Carnegie Endowment for International Peace and deputy director of the Carnegie Moscow Center. Funding for The Russian Military and the other volumes in this series was provided by a generous grant from the Carnegie Corporation of New York.
Endorsements
"This first-rate set of essays is a timely and remarkably comprehensive assessment of the contemporary state of the Russian military. It deserves the attention not only of those interested in military affairs, but also those concerned with political and economic developments in Russia."
- Lieutenant General William Odom (U.S. Army, Ret.), Senior Fellow, Hudson Institute, Washington, D.C.
"This is the best collection of both contributors and contributions that I have seen on this subject."
- Brigadier General John C. Reppert (U.S. Army, Ret.), Dean of the College of International and Security Studies, George C. Marshall Center, Garmisch, Germany
Table of Contents
Introduction (download pdf)
Moscow's Military Power: Russia's Search for Security in an Age of Transition
Steven E. Miller
Chapter 1
The Trajectory of the Russian Military: Downsizing, Degeneration, and Defeat
Pavel K. Baev
Chapter 2
The Social and Political Condition of the Russian Military
Aleksandr Golts
Chapter 3
Military Reform: From Crisis to Stagnation
Alexei Arbatov
Chapter 4
Russia, Regional Conflict, and the Use of Military Power
Roy Allison
Chapter 5
The Economics of Defense in Russia and the Legacy of Structural Militarization
Vitaly Shlykov
Chapter 6
Nuclear Weapons in Current Russian Policy
Rose Gottemoeller
Conclusion (download pdf)
Gold Eagle, Red Star
Dmitri Trenin
Index (download pdf)
Other Publications in the Global Security series
The American Academy Studies in Global Security book series is edited by Carl Kaysen (MIT), Martin Malin (American Academy), and John Steinbruner (University of Maryland), and published by The MIT Press. This volume is one of five that consider international security in the post-Soviet region.