Statehood and Security: Georgia after the Rose Revolution
Back to publications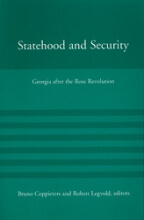 Summary
With the Rose Revolution, the Georgian people have spoken, demanding that government be taken from the corrupt and darkened inner corridors of power and given back to them. But from the moment of its independence, Georgia has faced profound threats to its national security, beginning with the eroded base for the state itself, and the task of overcoming these dangers now passes to the leaders of the Rose Revolution. This is the first book to explore the deep and complex security challenges facing Georgia before and after the dramatic revolution of November 2003. It brings together Georgian and non-Georgian authors who look at the many different sides of the challenges Georgia faces—from territorial conflicts within the country to tensions beyond Georgia's borders, including the long, troubled relationship with Russia.
This volume is edited by Bruno Coppieters, associate professor of political science at Vrije Universiteit Brussel, and Robert Legvold, professor of political science at Columbia University. Funding for Statehood and Security and the other volumes in this series was provided by a generous grant from the Carnegie Corporation of New York.
Endorsements
"Balanced, insightful, and authoritative - this examination of a strategically important nation at a crucial moment in its emergence as an independent democracy could hardly be timelier. Georgia's attainment of stability, security, and successful statehood matters not just to its own people, but to its neighbors (including Russia), and to the entire international community. This book explains why and elucidates the complexities of the challenge."
- Strobe Talbott, President, Brookings Institution
"A fragile state in a dangerous neighborhood, the fractured Republic of Georgia faces serious security problems and foreign policy challenges. In this unique volume, editors Bruno Coppieters and Robert Legvold have gathered the leading regional experts to explore how this ancient state might deal with its uncertain future. Georgia could well be the next international flashpoint between a post-imperial Russia looking longingly at the remnants of its former empire and the United States extending its influence into a troubled area far from home."
- Ronald Suny, Professor Emeritus of Political Science, University of Chicago
"The need for a comprehensive and up-to-date analysis of the security challenges facing Georgia today is finally satisfied by this superb volume. A distinguished group of Georgian and Western authors offer subtle treatments of the broad range of internal and external threats to Georgia's security, including excellent treatments of Georgian-Russian relations, the conflict over Abkhazia, and the importance of Georgia for regional stability. It is hard to imagine a more timely contribution to this critical subject."
- Gail W. Lapidus, Senior Fellow, Stanford Institute for International Studies
Table of Contents
Introduction (download pdf)
Outlining the Challenge
Robert Legvold
Chapter 1 (download pdf)
Georgia: Dimensions of Insecurity
Ghia Nodia
Chapter 2
Georgia's Time of Troubles, 1989–1993
Christoph Zürcher
Chapter 3
Georgian Defense Policy and Military Reform
David Darschiasvili
Chapter 4
Georgia and Russia: The Troubled Road to Accommodation
Jaba Devdariani
Chapter 5
Frozen Uncertainty: Russia and the Conflict over Abkhazia
Oksana Antonenko
Chapter 6
Georgian Security and the Role of the West
Damien Helly and Giorgi Gogia
Chapter 7
Georgia and Its Distant Neighbors
Thomas de Waal
Conclusion (download pdf)
Locating Georgian Security
Bruno Coppieters
Other Publications in the Global Security series
The American Academy Studies in Global Security book series is edited by Carl Kaysen (MIT), Martin Malin (American Academy), and John Steinbruner (University of Maryland), and published by The MIT Press. This volume is one of five that consider international security in the post-Soviet region.