II-21d: Shares of All Doctoral Degrees Awarded in Selected Academic Fields, 1987–2015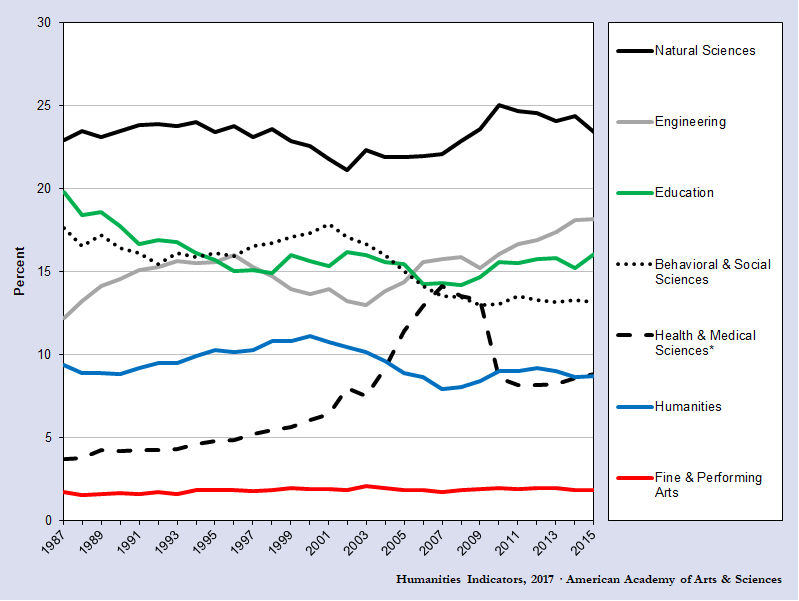 * The appearance of a dramatic shrinkage in 2010 in the share of all doctorates that went to students of the natural sciences is attributable to a recent change made by the National Center for Education Statistics in the way it asks institutions to classify doctorates. Please see the "About the Data" section of this indicator for details. (See also the Note on the Definition of Advanced Degrees for a description of this shift and the steps the Humanities Indicators has taken to help ensure comparability of the advanced degree counts it provides for different years.)
Source: U.S. Department of Education, Institute of Education Sciences, National Center for Education Statistics, Integrated Postsecondary Data System; accessed via the National Science Foundation's online integrated science and engineering resources data system, WebCASPAR.
See the Note on the Data Used to Calculate Humanities Degree Counts and Shares and the Note on the Definition of Advanced Degrees. Through 2009, many advanced degrees in the health sciences were classified by awarding institutions not as "first professional" degrees (the way in which the National Center for Education Statistics [NCES] requires M.D.'s be classified) but as doctorates. With the elimination by NCES of the generic doctoral degree category in 2010, institutions began classifying such degrees as "professional practice" doctoral degrees, which the Humanities Indicators includes in its master's degree and professional degree counts. This change in the classification of health sciences doctorates, in combination with the relatively small number of doctoral degrees completed each year, creates the false impression that the health and medical sciences field experienced a profound loss of doctorate "market share."
Back to Humanities Indicators