Lincoln Project Recommendations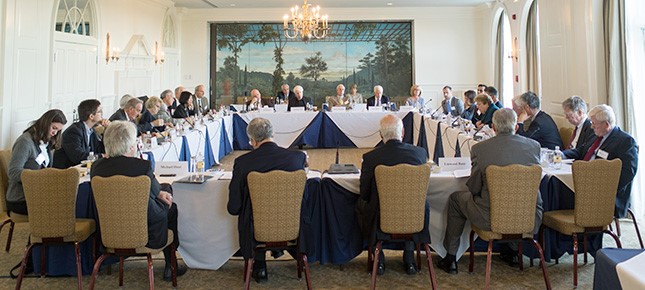 The Academy's Lincoln Project convened regional meetings in Georgia, New York, North Carolina, Texas, and Virginia which brought together local leaders in public higher education, government, policy, business, and philanthropy to identify common concerns and advance innovative initiatives. Areas of focus included addressing financial challenges, fulfilling the commitment to provide accessible and affordable undergraduate education, competing with private higher education, and conveying the benefits of state investment. Participants also considered the role the federal government, the business sector, and philanthropy could play in sustaining the excellence of America's public research universities. In addition to the regional forums, the Lincoln Project reached out to 145 public research universities to introduce the initiative and request data.
The project released a series of five publications that present key facts about public research universities; examine the challenges facing higher education funding at the state level; discuss current and changing financial models of public research universities; and consider the myriad impacts of the research conducted at these institutions. Finally, the Lincoln Project offered substantive policy recommendations for sustaining these institutions and advancing their growth for the benefit of the states they serve and the nation as a whole in its final report.
In Public Research Universities: Recommitting to Lincoln's Vision—An Educational Compact for the 21st Century, the project's final publication, members of the American Academy's Lincoln Project recommend three strategies to ensure a bright future for these institutions and the communities they serve:
Recommendation 1: Address current financial challenges through renewed state support and new cost efficiencies and additional revenue streams at public research universities;
Recommendation 2: Create public-private partnerships to sustain and strengthen research and education for the future; and
Recommendation 3: Improve student access and performance by simplifying financial aid, tracking student performance and improving transfer pathways.
Additional recommendations customized for public research universities and their partners also provide ways in which these institutions may consider responding to evolving societal, economic, and financial pressures.