Those of us who endeavor to weave science more thoroughly into the fabric of society seek a world where everyone is empowered to interpret, use, or seek new scientific knowledge. This vision is shared across disciplines, methodologies, and venues. It is the common goal that underlies the efforts of everyone from teachers and informal educators to science communicators and researchers. Our desire to cultivate a relationship between all people and science is what unites the field of science engagement.
With such underlying commonality and constant desire for new partnerships, practices, and resources, the formation of silos between science engagement professionals seems counterintuitive. Some siloing originates from structural constraints, such as funding and bandwidth, that limit the capacity of professionals to work beyond immediate commitments. Other silos, however, can be traced to the shared terminologies that arise in communities of practice, limited exposure to alternative professional contexts with the field, or differing short-term objectives.
I have experienced this compartmentalization firsthand. As a graduate student in biomedical engineering I became immersed in the world of science communication. As an organizer for ComSciCon, a national graduate-student-driven workshop series, I found a community of like-minded students across the country seeking the science communication skills and experiences that were missing from our formal graduate training. Through my work with ComSciCon I was exposed to a range of contexts such as science advocacy, storytelling, writing, social media, and policy. The diversity of experiences and disciplines of my co-organizers expanded my personal view and understanding of the approaches and platforms for science communication.
At the same time, all our experiences were bound to an academic context of science and science communication. We were all graduate students brought together by our shared interest. At the time we rarely, if ever, drew from the best practices and concepts from informal science education despite an emphasis on the same audiences. This disconnect can partially be attributed to a simple language barrier; even the words we use to describe whole communities can be jargon to those outside of them. It is challenging to look outside your silo if you don't know ;you are in one. Admittedly, it wasn't until after I left academia and was tasked with understanding the science engagement landscape that I fully realized the breadth of communities within this space. Recent national efforts to assess the science engagement landscape draw attention to these silos and reveal opportunities for creating new bridges.
Science Communication, Engagement, and Education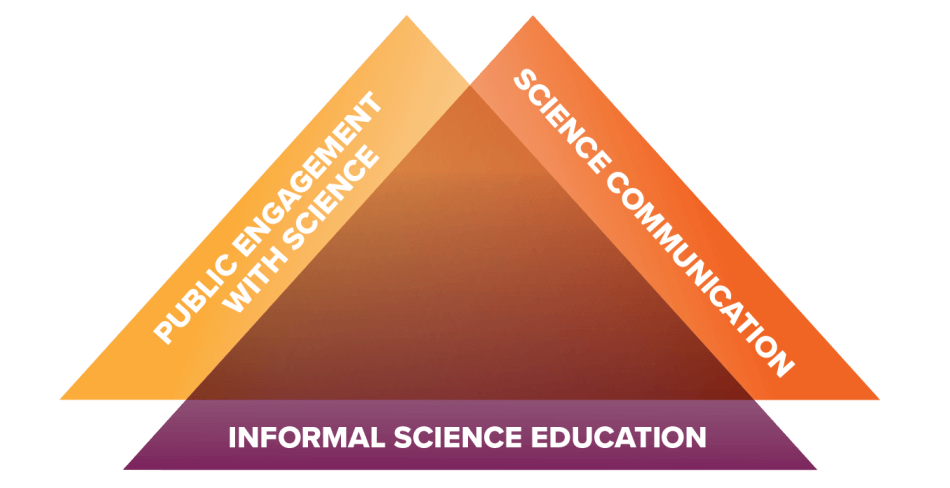 The Public Face of Science
To understand and address the complex and evolving relationship between science and society, the American Academy of Arts and Sciences launched the Public Face of Science initiative in 2016. The first two reports from the initiative, Perceptions of Science in America and Encountering Science in America, provided insights into attitudes toward science and a landscape perspective on how people experience science. Encountering Science in America presented three distinct but overlapping fields that share goals and practices:
Public engagement with science
The American Association for the Advancement of Science (AAAS) defines public engagement with science as "intentional, meaningful interactions that provide opportunities for mutual learning between scientists and members of the public."
Science communication
A National Academies of Sciences, Engineering, and Medicine (NASEM) report on communicating science effectively defines science communication as "the exchange of information and viewpoints about science to achieve a goal or objective such as fostering greater understanding of science and scientific methods or gaining greater insight into diverse public views and concerns about the science related to a contentious issue."
Informal science education
The Center for Advancement of Informal Science Education (CAISE) describes the field of informal science education as pursuing opportunities for "lifelong learning in science, technology, engineering, and math (STEM) that takes place across a multitude of designed settings and experiences outside of the formal classroom."
These fields span scientific disciplines and share audiences, techniques, and outcomes, but there is limited overlap between the communities themselves. Looking past the divisions between these fields, the report emphasizes a core conceptual framework for science engagement that distills the three fundamental components of all science engagement activities: 1) the participants, 2) the motivations, and 3) the outcomes. The report also shares data from science centers, science festivals, citizen science programs, and online engagement. This landscape-level view of the science engagement space provides a road map for seeking out potential new partners and resources.
In early 2020, a final report from the Public Face of Science initiative will present priority areas for action directed at the scientific community, academic institutions, science engagement programs and institutions, and journalists. In this report, the initiative suggests that cultivating the relationship between science and society requires an approach that spans boundaries and stakeholders. It advocates for an increase in the number of opportunities for sharing resources and best practices and for cooperative efforts within the science engagement field on shared outcomes. Read the Public Face of Science initiative reports.
Erica Palma Kimmerling (ekimmerling@astc.org) is the senior advisor for science engagement policy and partnerships at ASTC. Before joining ASTC in August 2019, she was the Hellman Fellow for Science and Technology Policy at the American Academy of Arts and Sciences, where she worked on the Public Face of Science initiative.