Will Receive Randel Award and Deliver Remarks at April Event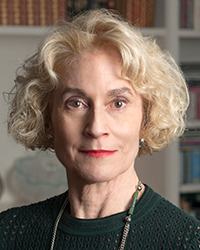 CAMBRIDGE, MA | January 30, 2018 — The American Academy of Arts and Sciences has named Martha Craven Nussbaum the recipient of the 2017 Don M. Randel Award for Humanistic Studies. The award is an opportunity for the Academy to recognize a remarkable scholar whose work shapes our understanding of our intellectual pursuits and our interior lives.

Professor Nussbaum is the Ernst Freund Distinguished Service Professor of Law and Ethics at the University of Chicago, with appointments in both the Law School and the Philosophy Department. In addition, she is an Associate in the Classics Department, the Divinity School, and the Political Science Department, a Member of the Committee on Southern Asian Studies, and a Board Member of the Human Rights Program.

Nussbaum has written dozens of books, including The Fragility of Goodness: Luck and Ethics in Greek Tragedy and Philosophy (1986, updated edition 2000), Love's Knowledge (1990), Sex and Social Justice (1999), Upheavals of Thought: The Intelligence of Emotions (2001), Hiding From Humanity: Disgust, Shame, and the Law (2004), Not For Profit: Why Democracy Needs the Humanities (2010), Anger and Forgiveness: Resentment, Generosity, Justice (2016), and Aging Thoughtfully: Conversations about Retirement, Romance, Wrinkles, and Regret (with Saul Levmore, 2017). Her next book is The Monarchy of Fear: A Philosopher Looks at Our Political Crisis (2018).

As suggested by Nussbaum's many academic appointments, extracurricular activities, and books, her work crosses traditional academic borders and pushes beyond scholarship to change habits of mind and of action. Much of her work is engaged in exploring the human condition and the range of emotions, abilities, and endeavors we can recognize in ourselves and in others.

"The breadth of Professor Nussbaum's work highlights the diversity of humanistic studies themselves and the depth of her work illustrates how these disciplines can fundamentally change how we understand and live our lives," said Jonathan F. Fanton, President of the American Academy. "We are honored that she is a member of the Academy and look forward to celebrating the quality and quantity of her thoughtful, meaningful scholarship in April."

Nussbaum noted: "I am deeply honored by this award, and most especially by its connection with Don Randel, an outstanding President of my own university and one of our nation's great champions of the humanities. I plan to continue fighting for the humanities, both here and abroad, in whatever ways I can."

The Award for Humanistic Studies was established in 1975. Last year it was renamed in honor of musicologist and former Chair of the Academy's Board of Directors Don M. Randel, who previously served as the president of The Andrew W. Mellon Foundation and as the president of the University of Chicago. Previous recipients of this award include Meyer Abrams, Kenneth Burke, Denis Donoghue, Helen Vendler, and Jean-Pierre Vernant.

Nussbaum received received her BA from New York University and her MA and PhD from Harvard University. She was elected a Fellow of the American Academy of Arts and Sciences in 1988, and has taught at Harvard University, Brown University, and Oxford University.

Professor Nussbaum will accept the Don M. Randel Award for Humanistic Studies and deliver remarks at "A Celebration of the Arts and Sciences" – a public event at the American Academy in Cambridge on April 12, 2018.