Faces of America
Getting By in Our Economy
Back to publications
Faces of America: Getting By in Our Economy is a unique photojournal made up of images and quotes that capture life in the twenty-first-century American economy. It is a product of the Academy's Commission on Reimagining Our Economy (CORE) and the first photojournal published by the American Academy of Arts and Sciences in its nearly 250-year history. With stunning images and moving quotations, it illustrates the importance of building an economy that works for the people who make it work.
The aim of the Commission is shift national focus from how the economy is doing to how Americans are doing. The Commission recognizes that the nation's financial well-being cannot be adequately captured exclusively by charts, graphs, and regression analyses. There must be an understanding of the people who make it work: their struggles, their values, their aspirations.
In 2022, the Commission engaged four photographers in very different parts of the country to capture median-income Americans in the course of their daily lives: at work, at home, volunteering in their community. Faces of America presents a selection of these images, paired with excerpts from thirty-one listening sessions the Commission held around the United States between February and September 2022. The images are organized around the Commission's key values: Security, Opportunity and Mobility, and Democracy. 
To request copies of Faces of America, please email photojournal@amacad.org.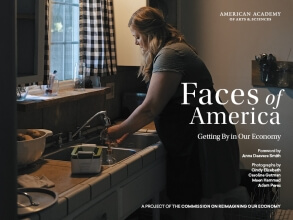 American Academy of Arts and Sciences