Project
Commission on Reimagining Our Economy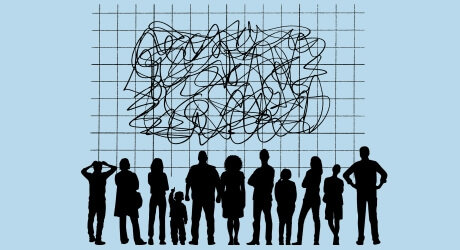 This crosspartisan, interdisciplinary Commission seeks to reimagine the nation's political economy, to rethink the values that drive economic policy making, and to enable opportunity for all Americans. Guided by an understanding of the connections between our political and economic systems, this project will advance bold, achievable recommendations to help create an economy that helps individuals, communities, and the nation flourish.
Overview
The multiyear Commission on Reimagining Our Economy will study the relationship between economic conditions and social and institutional trust in the United States. Nearly one in seven American children live in poverty and, in a recent survey, 66 percent of Americans felt the nation's economy needs major reforms, while just 6 percent feel it should remain unchanged. These conditions threaten lives and livelihoods, and they sow distrust in political, economic, and community institutions. In the face of a global pandemic and the fallout from the 2020 election, addressing these issues is especially urgent.
This Commission will build on Our Common Purpose: Reinventing American Democracy for the 21st Century, the final report of the American Academy's Commission on the Practice of Democratic Citizenship. That report acknowledges that economic conditions influence public faith in government, political participation, and civic engagement. While Our Common Purpose does not offer recommendations specifically targeted at economic issues, the Commission on Reimagining Our Economy will face these issues head on.
This unique, multidisciplinary Commission includes scholars, business leaders, philanthropic leaders, community and religious leaders, labor leaders, and others. Through listening sessions, data collection, and a commitment to crosspartisan work, the Commission will develop bold, achievable recommendations that rethink the values that should drive the economy and advance practices and policies that would enable opportunity for all.
The new Commission represents a vital endeavor to reimagine the nation's political economy, ease distrust, and help the American people face the challenges of the twenty-first century.
People
People
University of Wisconsin-Madison
Columbia Journalism School
Joan and Irwin Jacobs Program Officer for American Institutions, Society, and the Public Good
Program Director for American Institutions, Society, and the Public Good
Program Associate for American Institutions, Society, and the Public Good