The Humanities in American Life: Insights for Religious Studies
Findings and Trends
Engagement
22% of adults often engage in religious text study, and another 15% do so sometimes. Nearly half (47%) never engage at all.

Religious text study is more popular with older Americans: 29% of Americans age 60 and older often engage in this activity, compared to just 18% of those ages 18 to 29.

Black Americans are more likely to engage in religious text study than Americans in general, as 33% do so often.

15% of Americans often search for information about a religion or culture different from their own.

Protestants, Roman Catholics, and the nonreligious are less likely than those of other faith traditions to explore religious and cultural differences online.

White Americans are somewhat less likely than Black and Hispanic Americans to have searched for information on religions and cultures other than their own.

Young adults (ages 18 to 29) are somewhat more likely than the oldest Americans (age 60 and above) to seek information on religions and cultures other than their own.
Estimated Frequency of Adult Engagement in Online Research about a Religion or Culture Different from One's Own in the Previous 12 Months, by Religious Affiliation, Fall 2019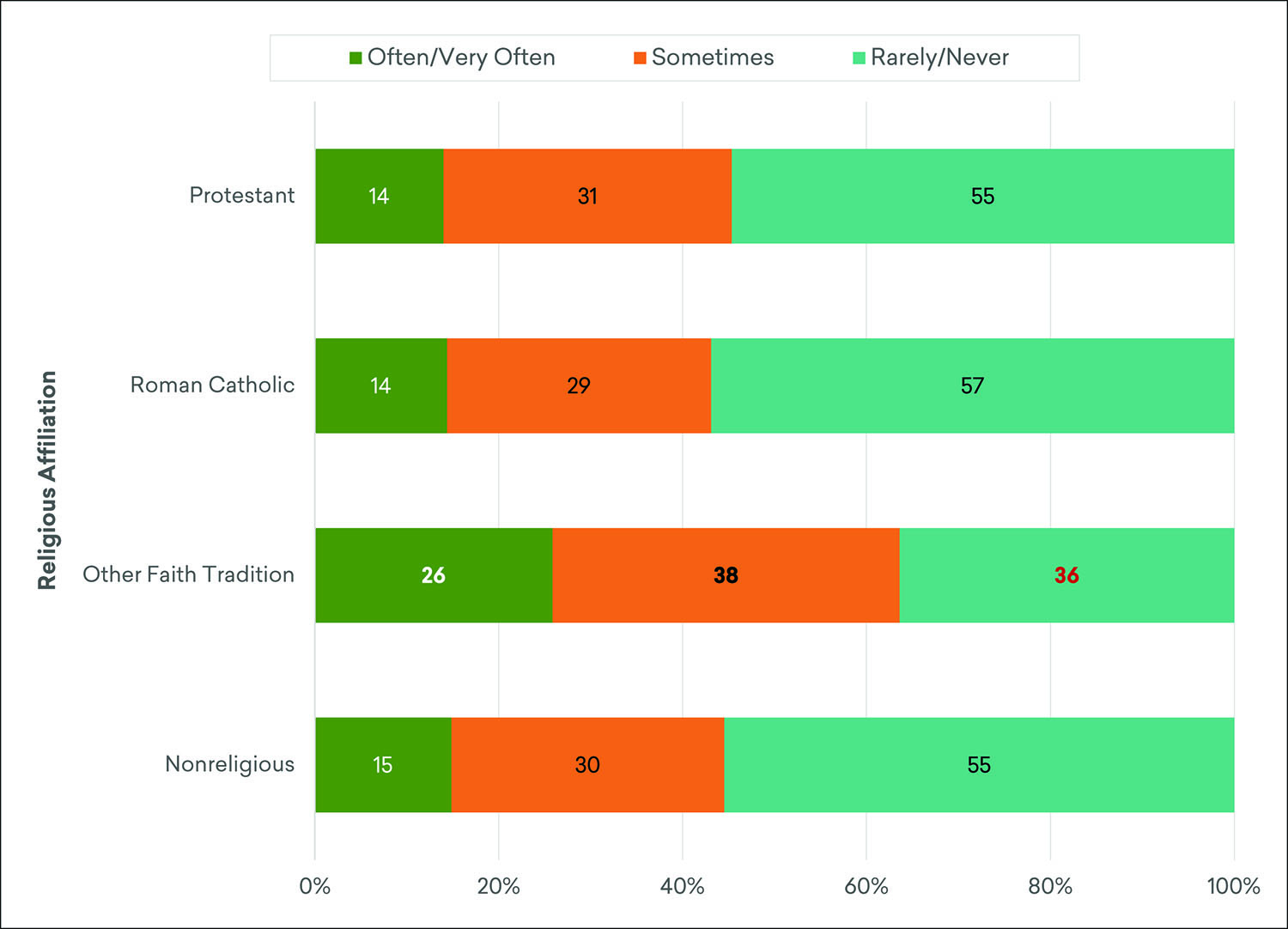 Childhood and Education
A relatively small share of Americans consider it important to teach K–12 students about differences in religious thought (58%). The only other humanities subject that Americans are less likely to believe is important for children to learn is art history/appreciation.

Black and Hispanic Americans are more likely than White Americans to believe that teaching differences in religious thought is important.

Self-identified political conservatives and apolitical Americans are less likely than liberals to think that teaching K–12 students about differences in religious thought is important.

29% of Americans believe differences in religious thought should be taught exclusively outside of school (in the home, church, or community). Among those who think it should be taught in school, 60% believe it should not be taught until middle school or later.
These findings capture only a small slice of the larger study. Visit https://bit.ly/HumSurvey for the full report of the survey findings, including responses to questions about the humanities as a whole, visualizations comparing religious studies to the other subjects, and a detailed summary of the responses to every question by gender, age, and other key demographics.
A Guide to Interpreting These Findings 
The findings described here are based on a sample of Americans, weighted to produce estimates for the US adult population as a whole. The reported values are estimates and thus have a measure of error (also an estimate) associated with them. 
By virtue of the error associated with each estimate (either for the entire adult population or a particular demographic group), observed differences between them may be due to the sample that happened to be drawn for this survey rather than a difference between the actual values in the adult population, which could be known only if a census were conducted. For this reason, only differences between estimates that were found to be statistically significant at the 5% level are noted. 
Statistical significance gauges the reliability of an observed difference between two estimates. It indicates how certain one can be that the difference between the two values could actually be found in the adult population and is not due to chance (i.e., not due to the particular sample of adults that was surveyed as part of the study). If a difference between two groups (e.g., Asian and White Americans, or Asian Americans and the entire adult population) is significant at the 5% level, it means that if there really were really no difference between the two groups, a difference as large or larger than the one observed in our sample would be found only 5% of the time.  
Back to Humanities Indicators