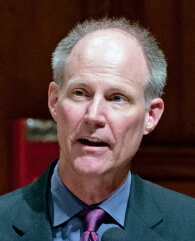 The Committee on Studies and Publications supports the Academy's Council by regularly reviewing and advising on projects, considering topics for future studies, and evaluating publications, including Dædalus. Committee members from a broad range of disciplines and professions share their expertise on projects that explore critical issues, advance discussion on central questions, and offer solutions to both national and international challenges.
The Academy's programmatic work falls under five areas of emphasis:
An overview of the active projects can be found at the links above and a list of recent Academy publications can be found here.
During 2021, the Committee approved and recommended two projects to the Academy's Council:
Making Justice Accessible: Implementation Plan
Following the release of the Making Justice Accessible project's final report, Civil Justice for All, the Committee approved a two-year implementation plan to close the civil justice gap in keeping with the findings and recommendations outlined in the Civil Justice for All report and the related paper Measuring Civil Justice for All: What Do We Know? What Do We Need to Know? How Can We Know It? The key elements of the implementation strategy include convening and supporting a committee of experts to advise on this work, conducting targeted briefings to policy-makers and other groups on the need for civil justice reform, holding public events, and fostering the collaboration and sharing of best practices across organizations active in the civil justice ecosystem. Project cochairs Martha Minow (Harvard University), John Levi (Legal Services Corporation; Sidley Austin LLP), and Kenneth C. Frazier (Merck & Co.) will continue to lead this work.
Commission on Reimagining Our Economy
After almost a year of preliminary research and project development, the Committee approved a multiyear commission to study how the nation can craft a model of good political and economic citizenship that repairs the social fabric. The commission's proposals will target political and economic institutions as well as civil society more broadly, offering a roadmap to a political economy that eases distrust and reimagines the public good. This new commission follows from the Commission on the Practice of Democratic Citizenship and will include two years of research, report development and writing, and a year of outreach and implementation. The commission is led by Ann Fudge (formerly, Young & Rubicam Brands), Katherine Cramer (University of Wisconsin-Madison), and Nicholas Lemann (Columbia University School of Journalism).
Over the course of the year, the Committee also provided advice on the following projects: the five-year implementation phase (to 2026) of Our Common Purpose (the final report of the Commission on the Practice of Democratic Citizenship), Challenges for International Scientific Partnerships, Commission on the Arts, Commission on Accelerating Climate Action, Humanities Indicators, and a new project on the History of the Academy. In addition, the Committee advised on a workshop "Opportunities and Challenges of Impact," held in September 2021, that included staff from twenty-one peer organizations, such as thinks tanks, other academies, and university research centers.
The Committee also approved the following Dædalus issues:
"Creating a New Moral Political Economy," guest edited by Margaret Levi (Stanford University) and Henry Farrell (Johns Hopkins University). This issue of Dædalus departs from the recognition that the current political economic framework is fraying and seeks to build a new one–an endeavor made more critical by the

COVID

-19 pandemic and the racial justice movement. The volume grows out of the program of the same name at the Center for Advanced Study in the Behavioral Sciences (

CASBS

) at Stanford University and will seek to explore alternatives to the current political economic model. Some of the questions the authors will address include: How do we rebuild our society on a sounder and more equitable basis? How do we define the role and scope of markets, trade, and work; reconceptualize the reach and impact of government; and create a safety net that is compatible with and can benefit from a technologically driven economy? This issue of Dædalus will deepen thought on these long-term questions by focusing on markets, technology, equity and racial justice, workers, corporations, climate change, care-giving, and human flourishing.
"Rethinking Humanitarian Health Responses to Violent Conflict," guest edited by Jaime Sepulveda (University of California, San Francisco), Jennifer Welsh (McGill University), and Paul Wise (Stanford University). This issue of Dædalus, developed as part of the Academy's project on Rethinking the Humanitarian Health Response to Violent Conflict, will examine current challenges to effective humanitarian action and propose new strategies for preventing civilian harm and delivering critical health services in areas plagued by violent conflict. The volume and project are based on the premise that these new approaches are best derived from a deeper, transdisciplinary understanding of the changing political, military, legal, and health dimensions that are redefining humanitarian challenges throughout the world. The authors include legal and security experts, health professionals, leaders of humanitarian organizations, and artists.
"Language and Social Justice in the

USA

," guest edited by Walt Wolfram (North Carolina State University), Anne Charity Hudley (Stanford University), and Guadalupe Valdés (Stanford University). This volume of Dædalus will explore the often-overlooked issue of linguistic (in)equality. Although current diversity extends to a range of groups–such as those characterized by race/ethnicity, sexual orientation, religious affiliation, gender, and so forth–it rarely addresses language variation, which can index all of those characteristics. The volume will specifically target university programs for issues of linguistic discrimination as higher education has been an active agent in the reproduction of linguistic inequality while advocating for equality in many other realms of social structure.
"Mental Health," guest edited by Arthur Kleinman. As the consequences of the

COVID

-19 pandemic have demonstrated, mental health is one of the defining experiences of being human. Its roots are biological and social, psychological and economic. Mental illness and related conditions like substance abuse, suicide, and dementia make up the largest category of disability in the health field. Not only do they cause pain and suffering and interfere in a substantial way with work and family life, but these conditions kill. In almost every society, this array of mental health problems is among the top ten leading causes of death. This issue of Dædalus will look at the global public health burden of distress and disease by taking stock of mental health, mental illness, and the systems, technologies, and processes that constitute mental health care today.
On behalf of the Academy, I would like to thank the members of the Committee on Studies and Publications for their time and dedication to this work. Each project and publication of the Academy is stronger for your thoughtful guidance, and we are deeply grateful for your generosity of time and expertise.