Project
Rethinking the Humanitarian Health Response to Violent Conflict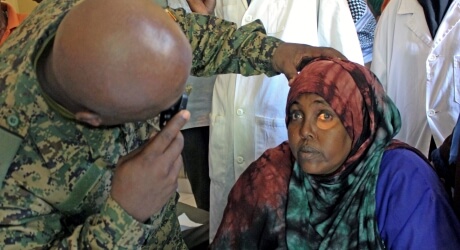 Rethinking the Humanitarian Health Response to Violent Conflict is a multiyear initiative engaging political scientists, legal and security experts, health professionals, and humanitarians to help define new strategies for the provision of essential health services in areas of violent conflict.
Overview
In response to the challenges to humanitarian health provision created by the COVID-19 pandemic, the initiative will prioritize research activities that focus directly on tackling these urgent needs. Two key issues have emerged that speak directly to the broader goals and capacities of this Initiative and will therefore serve as key organizing blocks for work going forward: (1) Global Cooperation, Humanitarian Health Delivery, and Pandemic Control and (2) Migrants and COVID-19: A Humanitarian Health Crisis at the U.S.-Mexico Border.
---
The initiative will consist of an ongoing engagement strategy involving domestic and international policy-makers, practitioners, and scholarly audiences, including international organizations and non-governmental organizations (NGOs), to help define new strategies for the effective provision of essential health services in areas of armed violence. The project includes a special focus on the creation of a transdisciplinary framework capable of integrating insights from global health sciences, international humanitarian law and humanitarian action, and political and security studies.
Primary products will include a series of publications, strategic dialogues, and others actively concerned with the humanitarian health response to violence; along with policy briefs, fieldwork, and surveys, as a means to reach not only a general audience, but also local and field-based humanitarian health providers who may be beyond the reach of targeted project engagement.
The initiative will consist of two major components, each of which will include substantive engagement with a range of actors through convenings, publications, and multimedia products. A cross-cutting Daedalus volume and a final report will synthesize findings from across all three major components of the project. We will also produce tailored resources for selected audiences of particularly relevant stakeholders and policymakers. Specific activities will include:
A forthcoming publication providing a diagnostic of the impact of COVID-19 on power dynamics and existing mechanisms of global cooperation
Exploring what lessons can be learned from historical or analogous cases of efforts to address a common threat by strengthening state cooperation in situations of intense geopolitical rivalry and existential risk
Pandemics and UN peace operations: A targeted effort to develop recommendations for how existing missions need to tailor their operations to facilitate an effective response to pandemics, building on lessons learned from past outbreaks
A series of Track II-style dialogues designed to help rebuild an international political consensus to support health responses to humanitarian crises
Assessing the threat of COVID-19 on the border to understand the regional threat of COVID-19 and current humanitarian demands
Interpreting the evidence base for the development of a regional strategy for migrant humanitarian health in border spaces affected by pandemics and large-scale violence
People
People
University of California, San Francisco
John E. Bryson Director of Science, Engineering, and Technology Programs and Program Director for Global Security and International Affairs
American Academy of Arts & Sciences
Senior Program Officer for Global Security and International Affairs
Program Coordinator for Global Security and International Affairs