Civil Wars, Intrastate Violence, and International Responses
Back to publications
From October 22–23, 2018, the American Academy of Arts & Sciences, in conjunction with the U.S.-Asia Security Initiative (USASI) at Stanford University and the Institute for China-U.S. People-to-People Exchange at Peking University, gathered scholars and policy practitioners at the Stanford Center at Peking University to participate in the "Civil Wars, Intrastate Violence, and International Responses" workshop. The workshop was an extension of a project examining the threats posed by intrastate warfare launched in 2015 and led by the American Academy and Stanford University's Freeman Spogli Institute for International Studies. The goal of this workshop was to facilitate frank discussions exposing participants to a wide range of views on intrastate violence and international responses.
The workshop was divided into sessions that assessed trends in intrastate violence since the end of the Cold War, examined the threats to international security posed by civil wars and intrastate violence, and evaluated international responses, including an analysis of the limits of intervention and a discussion of policy recommendations. Participants also had an opportunity to make closing comments and recommendations for future research.
This report provides an executive summary and summaries of the workshop sessions on a non-attribution basis.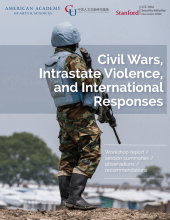 Published by The Walter H. Shorenstein Asia-Pacific Research Center, Stanford University, CA, 2019
Table of Contents