Project
Challenges for International Scientific Partnerships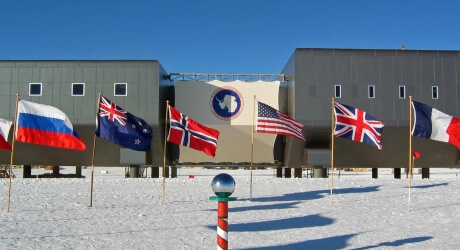 Challenges for International Scientific Partnerships is an American Academy project that aims to articulate the benefits of international collaboration and recommend solutions to the most pressing challenges associated with the design and operation of partnerships. This initiative seeks to identify policy recommendations and best practices to mitigate challenges for international science collaborations, including physical facilities, distributed networks, and peer-to-peer partnerships.
Overview
In this rapidly changing world, and in light of recent movements against globalization, international scientific collaborations can bring not only new scientific insights but also cultural, economic, and political benefits. Challenges for International Scientific Partnerships examines impediments to these collaborations and identifies potential policy changes and best practices that could make the U.S. a better partner in international science partnerships. The project, co-chaired by Arthur Bienenstock and Peter Michelson, examines these challenges through two major foci:
The Large-Scale Science working group approaches international collaborations through the lens of issues particular to large scale science and not peer-to-peer or small-scale international work. This group has been tasked with exploring how the U.S. can enhance their role in these partnerships, both in physical facilities (e.g. the European Organization for Nuclear Research) and distributed networks (e.g. the Human Cell Atlas). This group is focusing on recommendations to target U.S. government agencies and Congressional branches to enable the United States' ability to partake in large-scale collaboration efforts as meaningful and engaged partners. This working group is co-chaired by Drs. Bienenstock and Michelson.
The Emerging Science Partners working group is exploring issues particular to U.S. scientific collaborations, at all scales, with countries seeking to boost their scientific capacity, particularly those with limited resources to do so. In particular, this working group will frame discussions on how the U.S. can be a better partner in its partnerships with countries in the Global South, and avoid the historical problems associated with "parachute science." This group will prioritize identifying and examining difficult issues facing resource-limited researchers, such as the challenges facing women researchers in the developing world. This working group is co-chaired by Shirley Malcom and Olufunmilayo Olopade.
People
People
Chief Program Officer for Science, Engineering, and Technology
Program Associate for Science, Engineering, and Technology
Program Coordinator for Science, Engineering, & Technology and Global Security & International Affairs