Project
The Higher Education Forum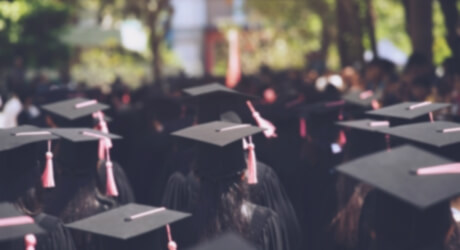 The Forum, a collaboration of higher education leaders and scholars, launched in 1984 and moved to the Academy in 2022. The Higher Education Forum is an opportunity for the Academy to provide leadership and learning on pressing issues in higher education with a cross-disciplinary and cross-sector approach that draws on the strengths of its members and Affiliates.
Overview
The Higher Education Forum is an organization of college and university leaders focused on pressing issues that affect students and schools. It started in 1984 and was based at Columbia, Stanford, Yale, and MIT (as the Forum for the Future of Higher Education) before coming to the Academy in 2022.
The Forum furthers the Academy's education portfolio by providing opportunities to be more nimble and experimental in response to issues that matter to higher education as they develop, while also informing the Academy's longer-term work in higher education. The Forum is the newest addition to the Academy's work in higher education. Recent related work includes The Commission on the Future of Undergraduate Education, chaired by Roger Ferguson and Michael McPherson, and The Lincoln Project, chaired by Robert Birgeneau and Mary Sue Coleman, with a focus on public higher education. Also, the Humanities Indicators, which provides researchers and policymakers with reliable, nonpartisan data – including in higher education – has been underway at the Academy since 2009.
Academy members have long been active in the cross-disciplinary activities and events of the Forum, including the most recent 2020 Aspen Lecture Series, whose participants included Danielle Allen, Donald Berwick, James Fallows, William Kirby, John Mitchell, and Admiral James Stavridis.
Importantly, the Forum connects with the Academy's Affiliates program, comprised of colleges, universities, and cultural and scientific institutions who, united in their commitment to advancing the common good, work with the Academy to address issues of both timely and abiding concern. The Higher Education Forum Advisors, Academy Affiliates, and Academy members guide all aspects of this work.
People
People
Higher Education Forum Advisors
Activities of the Forum are made possible through major grants from Lumina Foundation, Huron Consulting, Strada Education Network, and TIAA, along with the generous support of these sponsors: American Public University System, Bank of America, Barclays, Deloitte, Goldman Sachs, JP Morgan Chase, Kaplan, Morgan Stanley, Prager & Company, and United Educators.